Our Dispensary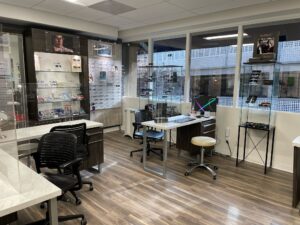 Find your perfect match at Palos Verdes Family Vision Optometry.
The right eyewear balances form and function. You want to look great, feel great, and see clearly in every condition. Palos Verdes Family Vision Optometry can help you find your match.
Our optical studio features a curated collection of designer frames and precision lenses. Your eyes deserve the best, and our experienced team can help you find it.
Call or click to schedule your appointment.
What are my options for lenses?
There are many eyeglass lens options available. Your eye care provider will take your lifestyle and vision correction needs into consideration when helping you select the right lenses for your eyes.
Here are some of the most common eyeglass lens types:
Transition lenses – These lenses are made of dynamic materials that automatically adjust to the level of surrounding light. They can take the place of prescription sunglasses and help block UV rays. Newer technology offers faster, more complete darkening and clearing, and fantastic new colors!
Polarized sunglass lenses – If you are getting prescription sunglasses, we encourage polarized lenses to eliminate reflected glare. We always recommend a UV backside coating to give you the most protection possible.
Polycarbonate lenses –  Polycarbonate lenses offer you lighter, thinner lenses that are impact resistant.
Thinner lenses – For higher prescriptions, we advise special lens materials that keep your lenses thin and reduce peripheral distortions with aspheric designs.
Anti-glare lenses – Anti-glare lenses are created in special vacuum chambers that apply multiple coats of scratch and UV protection, as well as layers of anti-glare substances that provide clearer vision, added protection and better cosmetic appearance on your face. You will especially appreciate them for night driving!
Need a prescription?
We do that too! Palos Verdes Family Vision Optometry offers comprehensive eye exams at our Rolling Hills Estates office. In addition to assessing your visual acuity, your eye care provider will examine your eye health and function.
Schedule a comprehensive eye exam at Palos Verdes Family Vision Optometry now.